Conventional Loan Limit Increase 2020
November 29, 2019 4:06 pm
Published by LH Lending
LH Lending is now accepting new applications with increased loan limits!
The Federal Housing Finance Agency (FHFA) announced Tuesday that conventional loan limits are increasing. The new 2020 base loan limit in most of the country will be $510,400 (a 5.4% increase over 2019).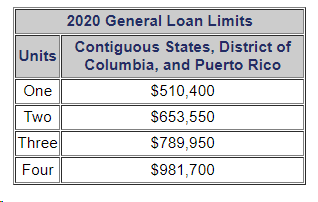 How can you start using these new limits?
New conventional loan limits may be used with new applications beginning November 27, 2019.

More details are available in Fannie Mae Lender Letter LL-2019-09 and Freddie Mac.

Get pre-qualified with our award-winning team today! 

 

Tags: conventional loan, loan limits, new loan limits


Categorised in: LH Lending News, Mortgage Education

This post was written by LH Lending